A multiple-car crash on the Otedola Bridge section of the Lagos-Ibadan expressway, on Wednesday, October 23, 2019, claimed the life of a driver, whose identity is yet to be disclosed.
The auto crash which happened in the early hours of the day, involved a containerized truck and several cars.
According to Assistant Corp Commander, Ojota Command of the Federal Road Safety Corps (FRSC), Olusanjo Oluwatanmi, four vehicles were involved in the auto crash.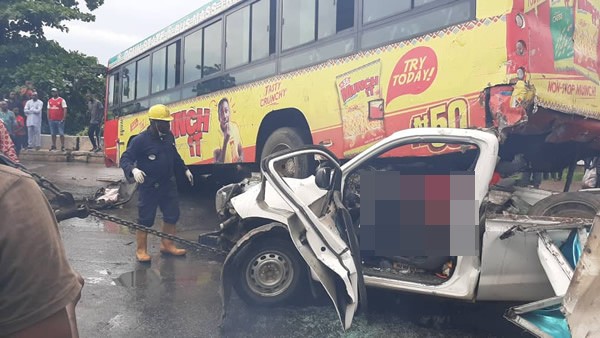 The multiple crash on Otedola Bridge involves four vehicles. [Punch]
Oluwatanmi who confirmed the incident to Punch, said while the accident claimed the life of a person, another person was rushed to the hospital.
"This accident happened this morning around 8:40 a.m, involving four vehicles. There was a truck, a trailer so to say, Toyota Sienna bus, a luxury bus and Toyota Hilux van.
"It rained this morning and I think that contributed to it. The truck was said to have lost control of its brake and ran into the Toyota pick up van, which was pushed under the luxury bus and the Toyota Sienna by the side of the three vehicles crashed into the vehicles.
"We lost the driver but the female occupant has been rushed to the hospital. We have not been able to ascertain the number of persons in the luxury bus."
Otedola Bridge has been plagued by accidents in recent times.
Over a year ago,ikosi-isheri-lcda-enveloped-by-explode-tanker-flames when a Mack tanker truck, loaded with 33,000 litres of Premium Motor Spirit (PMS), lost control of its brake and exploded on Otedola Bridge along the Lagos-Ibadan Expressway after spilling its content, on June 28, 2018.