LEFT: Executive Chairman of Agboyi Ketu Lcda, Mayor Dele Oshinowo, Late Senator representing Lagos East, Adebayo Osinowo son, Dr. Tunde during previous editions of Agboyi Ketu Monthly fitness walk
Bilesanmi Abayomi
One of the programmes the residents of kosofe indeed Agboyi Ketu, will remember the first term Executive Chairman of Agboyi Ketu Lcda, Mayor Dele Oshinowo for, since inception of his administration is the introduction of the monthly fitness walk.
Notable politicians has since embraced the healthy 'Walk' as form of campaign strategy as observed during the last general elections.
However, In March 2020, Corona virus (covid-19) that lockdown Nations disrupted the monthly legacy exercise programme. If not for Koro as covid-19 sometimes called in the local parlance the turnout for the exercise would have been massive as Kosofe constituency 2, Lagos East senatorial district and 2021 Local Government Elections are fast approaching.
Based on wellbeing and politically the temporarily suspended exercise as result of the novel disease has finally come to stay.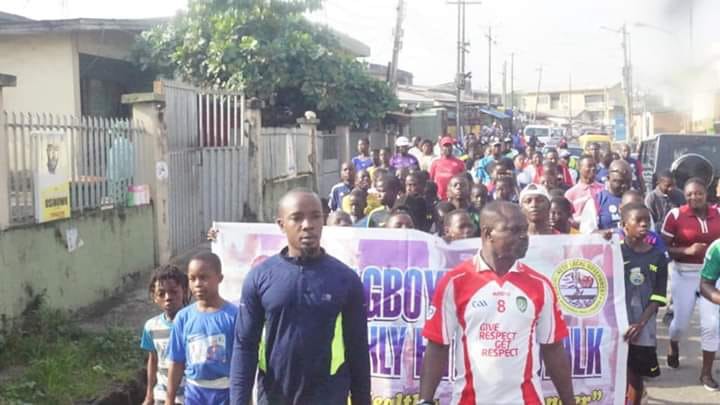 Also, the critical roads construction embarked by the Lagos State government in Kosofe along the two Ojota pedestrian bridges, Ketu Ojota Interchange, Mile 12, Demurin, Agidi, church street and several others, after the easing of the covid-19 has since replaced the Agboyi Ketu Monthly fitness walk.
Motorists, road users and residents of Kosofe now walk a long walk daily to get to their homes and offices due to traffic lockdown as multiple roads construction underway in kosofe and other parts of the state simultaneously.
ALSO READ,
Finally, APC settles for Polaris Bank MD, Tokunbo Abiru as consensus candidate for Lagos East Bye-Election
Adoyi Alashes Ruling House will play significant role on who becomes the next Baale of Anthony Village
Femi Saheed: Peoples choice for Kosofe Constituency 2 bye-election