Federal lawmaker, Hon. Rotimi Agunsoye trained 500 members in his constituency on various entrepreneurial skills.
Rotimi Agunsoye, who represents Kosofe Federal Constituency in the House of Representatives, said the training was initiated to discuss, share and provide guidance for the strengthening of entrepreneurial skills, adding that youths and women were the focus of the two-day training session.
He stated this during the graduation of the trainees at his constituency office in Lagos.
The training was done in collaboration with the office of the Senior Special Assistant to president Sustainable Development Goals and Dorcella Company Limited.
500 persons were trained in various skills ranging from cosmetology, Barbing and catering, with a practical session held in Kosofe area of Lagos.
Speaking at the occasion, Hon. Rotimi Agunsoye, who Chairs the House of Representatives Committee on Sustainable Development Goals, said the programme was a fulfillment of his campaign promises and opportunity to give second feedback within a year to the people of Kosofe in tandem with the manifestoes of the party, All Progressives Congress.
In his words he said: "In keeping faith with a cardinal point of the manifestos, I found my guiding principle in the words of a timeless Chinese proverb that says; Give a man fish and feed him for a day, teach him how to fish and feed him for life".
"You have the zeal to learn. This shows you are serious and ready to take up the responsibilities of the future.
"The great energy I have seen in this programme connotes that Nigerian youths are not lazy at all, rather they need the opportunities and right environment to thrive," he said.
He further urged the students to utilize the opportunity judiciously and also take steps to teach others so that those around them will benefit from their knowledge.
The Lawmaker who have provided some employment and empowerment programme while giving brief summary of his stewardship account to his constituents said: "well over two hundred graduates were trained and equipped in different areas of specialties.
Block molding machines, embroidery machine, sewing machine, grinding machines, popcorn machines, carpentry tools, hair driers, generators, Vulcanizing machine, Barbing kits distributed to beneficiaries upon completion of the training.
"This is exclusive of the several motorcycles and tricycles I have given out to indigent constituents in all my empowerment programs so far. If these laudable efforts at combating unemployment were a necessity then, it has now become the only lifeline left for us in this era of a devastating pandemic and another global recession".
March 2020 empowerment Programme for Hundreds of beneficiaries amidst COVID-19 pandemic with ₦50,000 start up capital helped many beneficiaries in soap making ventures.
Food palliatives were distributed during COVID-19 lockdown at four different times for the indigent masses by the Lawmaker in support of the Federal Government's response to coronavirus scourge.
Promise made, promise kept. Rotimi Agunsoye fulfilled the promise by given lifeline to another batch of constituents who would be business owners, who neither benefited from the last program nor partook in the food palliatives with minimum start up capital of Fifty Thousands Naira (₦50,000).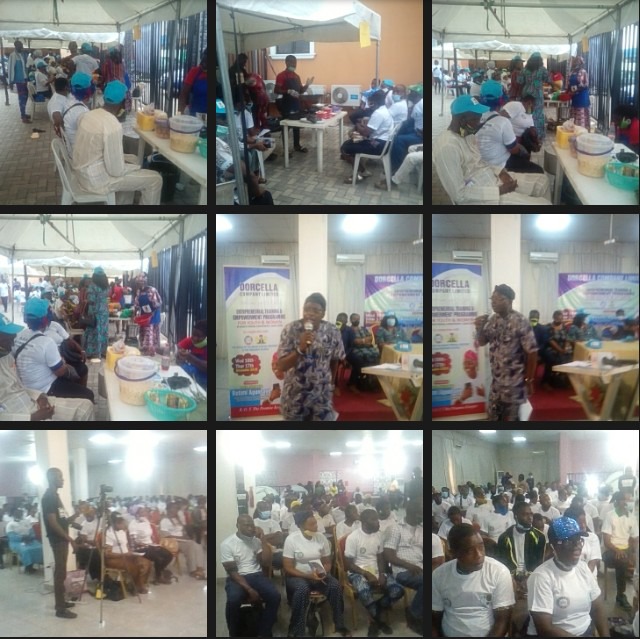 He empowered constituents who include residents and indigenes of kosofe Federal Constituency thanked the lawmaker, saying that he has demonstrated the virtues of a true leader.
The participants were given certificates of attendance, comprehensive training manuals and start-up funds.