The candidate of the African Democratic Congress (ADC), Mrs. Olajumoke Fakoya, was among the 2019 Lagos East Senatorial candidates that ran an impressive campaigns as monitored.
Like other major political parties potential aspirants she is equally yet to declare her intention officially. Perhaps,in honour of Late Senator Adebayo Osinowo, who died 10 days ago.
Earlier, She took to her social media page to extend her condolences to the Osinowo's family currently at Molipa, Area of Ijebu Local Government, Ogun State.
According to other developments monitored on her handle she shared old articles, 2019 electioneering campaign materials which revealed she might be warming up for the yet to be fixed bye election to elect a replacement for "Shehu or Peperitto"as hé is lovely called to advocate for the District.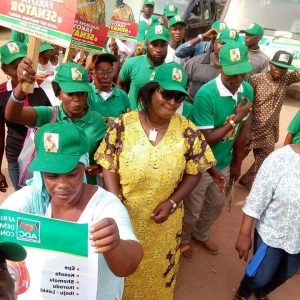 Hon. (Mrs) Olajumoke Fakoya in the middle of the crowd during 2019 campaign in election wearing yellow gown
A topflight source in Hon. Jumoke Fakoya camp, who was not authorized to speak confirmed to this newspaper that she is currently consulting with other stakeholders over the act of God development in Kosofe, Lagos East.
The source added that she is a young prepared candidate and she will definitely give it a trial. He, However, assured that a media parley will be organized after her successful consultation to keep the good people of Lagos East informed on her next move.