Sanni Omobukola
Taiwo Olalade Salvador Educational Initiative (TOS), Saturday, October 3, 2020, at Lagos Island, trained over 50 students, classroom teachers and facilitators on different thematic areas: literature; life skills; reading, writing, dictionary and general literacy to help revive the educational system in Nigeria.
TOS Initiative has strengthened educational systems in Lagos State through provision of quality educational services to teens in two different areas of the state; Anthony and Lagos Island.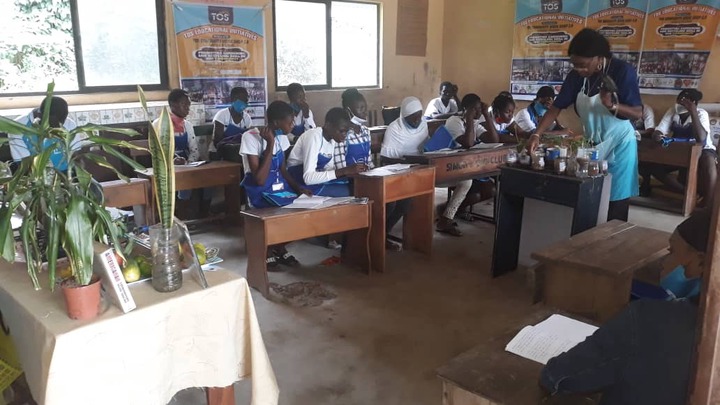 It was gathered that, the proposed six-week programme by TOS, exposes students to gardening and recycling with her theme tagged "promoting gardening and recycling skill in our community", and also provides care and support to keep the students on their toes.
The convenor of TOS, Mrs. Salvador implores the students to read anything that comes their way, train their brain and gain more knowledge.
According to her, reading brings about confidence, sense of accomplishments, productivity, a better vocabulary and a good writing skills.
She, however, had a practical reading session with the students, explaining how to read carefully, to assimilate the meaning of each words used by the author.
TOS aims to train teens, along with providing them with basic literacy skills to improve their development and ability to stay worthy in the society, by incorporating early reading habits, practice and techniques.
To further motivate and inspire the students, Mrs Salvador and her students had a virtual book review session with the author of "Daughters who walk this path", Mrs Yegide Kilanko from Canada.
Similarly, one of the facilitators, Mrs. Soares F.E elaborates on literature and explains in detail how the students can make use of their literature books judiciously.
In the same vein, Mr. Salaam M.A encouraged the students to develop love and passion for dictionary , as it will help to elevate their vocabulary and make them good orators.
In a similar development, Mrs Salvador, appreciated the students from Anthony, Lagos, for taking upon themselves, tasks and challenges given to them. This according to her, will make them more responsible and disciplined with their lives.
The quality of education in Nigeria is generally not encouraging, leading to unacceptably low academic performance among students.
However, TOS has helped improved the educational system by providing students with basic support to track their progress and equip them with necessary support to secure their future.