By Bilesanmi Abayomi
Two and half years to the 2023 general elections presented a good opportunity for major political parties or emerging ones without playing "Hush politics" or racism to honour the Igbo Presidency's Gentleman agreement.
No doubts in promoting equity, Justice and peace, the next president is coming from the Southern part of Nigeria.
Southwest, and South have held the presidency positions for 14 years, Vice President positions by 2023 both Southwest, and South would have spent cumulative 10 years with the only exclusion of the south East since the return to democracy in 1999.
Although, both North West, North East, Southwest, and South have had their fair share of the Presidency's yet their policy, programmes and projects had no impact measurable impact on the citizens over the last over 21 years.
Neither having an Igbo Presidency's in 2023 without restructuring will do anything novel or unusual to satisfy Abraham Maslow's Human needs to be compared to past President from other geopolitical zones.
One of the major needs of the people or every geopolitical zones is 'Sense of Belonging' which Igbo People have been denied as a result of racism and hate speech peddled against them in other to give a dog a bad name in order to hang it.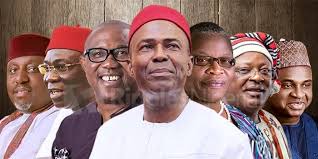 Some Notable Igbo faces.
However, for equity and justice, 2023 is Igbo turn without dissipating much energy.
It's a clarion call to Southwest, and South Nigerians, political parties, leaders, and opinion leaders irrespective of the lacuna in the 1999 Constitution of Nigeria the unwritten gentleman agreement with Igbo should be respected without playing any 'hush politics' with their overdue right not minding few elements of
provocateur and divisive tendencies among them.