Councilor, representing Isheri Ward A, Folashade Akinpelu renders account of stewardship, provides free Healthcare, cash and empowerment as dividends of democracy to the people.
Akinpelu expressed her profound gratitude to her constituents when she addressed the mammoth crowd of members of the community on her achievements at De- Royal Event Place, Ikosi Isheri Local Council Development Area of the state.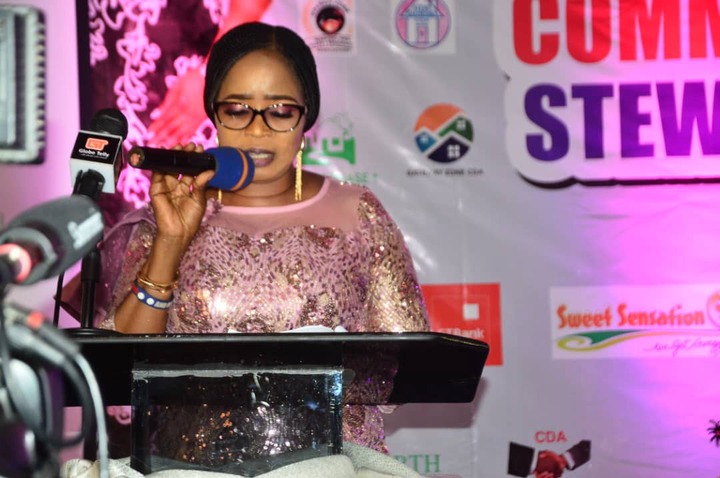 Councilor, representing Isheri Ward A, Folashade Akinpelu
Ikosi Isheri Lcda legislative Arm; Deputy Leader, Hon. Folashade Akinpelu inoncjuction with Medtest Libero foundation of provides free medical drugs, eye glasses, dental care, laboratory test to hundreds of residents.
Also, food relief and cash empowerment were given to many beneficiaries.
Notable dignitaries at the programme include: Member of representatives representing Kosofe Federal constituency, Honourable Rotimi Agunsoye, Ikosi Isheri Lcda SLG Honourable Dolapo bashru, Ex- Agboyi Ketu Lcda SLG and "2020 Kosofe constituency 2 House of Assembly Aspirant, Gbenga Osobu.
Also, Community Development Associations, Residents, Councilors, Supers, Political leaders, Traditional leaders, Youth groups, CAN, league of Imams among others.
According to her at the programme Tagged "Community Forum / Stewardship 2020" the Ikosi Isheri Lcda Legislative Arm; Deputy Leader, Folashade expressed her appreciation to her parents:
"Firstly I would like to appreciate Almighty God for the privilege given to me to serve as councilor representing WARD A, Ikosi Isheri Lcda. I thank my parents, pastor and deaconess R.A Akinpelu their advice and words of wisdom has been a strong shield to me.
"My gratitude also goes to my political leaders, whose worthy examples have today set the pace for me. I thank APC family , which i am glad to be part of. I also want to thank our vibrant and hardworking Governor, Mr. Babajide Sanwoolu, for touching every grassroots in the 377 wards of the state by caring out several road projects in which our ward is part of the beneficiaries.
"I also want to appreciate and commend our amiable minister of state on health, Senator Olorunmbe Mamora and the state Government for their immense contribution in combating and reducing the spread of Covid-19 in Lagos State during the pandemic period."
She also expressed her profound appreciation to APC stakeholders, Community Development Associations, captains of industries, traditional leaders , religious leaders over their unflinching support
during the covid-19 pandemic by ensuring the palliatives were duly distributed to the members of the community as expected and commended the community for complying with pandemic protocols.
"Needful it is equally extend my deep appreciation to the entire members of the community, who indeed been up and doing in taking the precautionary measures and observing the entire covid-19 preventive
regulations., so as to ensure that, this challenges posed on us all, by covid-19 pandemic, is curtailed as much as possible and brought to an abrupt end.
She commended the community youths for the peaceful manner they conducted themselves the end sars protest for using their strength for the common good of the community by preventing any form of wanton destruction of lives and properties.
A minute silence in remembrance and honour of the late Executive Chairman of Ikosi isheri Lcda, Engr. Abdulfatai Oyesanya, Senator representing Lagos East Senatorial District, Adebayo Osinowo and lawmaker Representing Kosofe Constituency 2, Honorable Tunde Braimoh.
Speaking further at the event Ikosi isheri lcda Deputy Leader, Folashade Said:
"Today, we gather together as a family but one purpose, which basically appreciate my constituents for believing in me and off course, to render account of my stewardship to good people of Award A who have reposed in me so much confidence, and have given me the opportunity to serve.
She continued," A time comes in every leader's life, where he must render account of his stewardship to those who put him in power. Today, at this great occasion tagged' Community Forum/Stewardship 2020′, it is my pleasure to give an account on the work done, facilitated so far by by most humble self since my inception in office in 2017.
To give account on the project executed in Ward A by the former Executive CHairman , Ikosi isheri Lcda, late Hon. (Engr.) Abdulfatai Oyesanya and by our present Ikosi isheri Lcda, Mayoress Samiat Abolanle Bada., fondly called Mayoress. Permit me to make preliminary point that, contrary to peoples believe,
a councilor is not in any way empowered to do road, projects, but as a councilor, one can make good use of His/her goodwill and office to facilitate projects, for the benefit of his or her ward and exactly what i have done. At a great forum as this wherein i have the honour of giving account of my stewardship to good
people of my constituency (ward A). I would like to list out the roads, projects facilitated by my humble self, under the former administration of Ikosi isheri Lcda, late Hon. (Engr.) Abdulfatai Oyesanya and present Ikosi isheri Lcda, Mayoress Samiat Abolanle Bada through the Lagos State Public Works, using my good
office, which are inclusive but not limited to the following roads:
Isheri/ Magodo Road, Ayodele fanoiki, Bankole Street, Agbedina Link Bankole Street, Jimoh Sobowale Street; Magodo.

Ongoing Project at Ago- Ijaiye Street, isheri, Road 5, Road 9, Farouk Aboaba, Road 10, Vera Dureke Road, Somide Odujirin Street, Omole Phase ll, Olowoira road, old Olowoira road.
Beyond Facilitating all these road projects in my Ward through the Lagos State Public Works, we also thank the LCDA for the following road projects executed in my Ward.
Salami Olonade Street, Isheri, Ajibode Street, Isheri, Kareem Street, Olowoira, Moses Ogungbeye Street, Olowoira, Fasogbon Street, Magodo Isheri, Six block of classrooms with six toilets at United African Church primary School, Isheri, Borehole for orisa Commmunity, Distribution of School Material to Public schools and Teachers.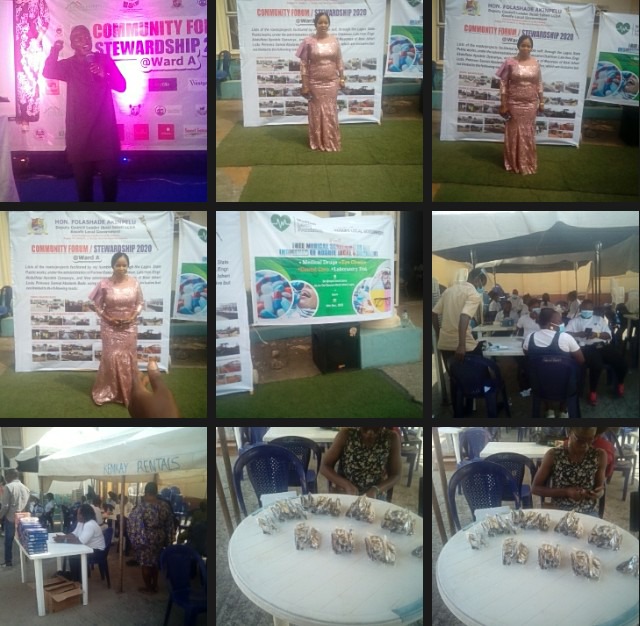 The stakeholders at the forum who stressed the imperative of stewardship and accountability for political office holders, lauded the councilor for what he described as 'her pragmatism, proactiveness and visionary instincts'.